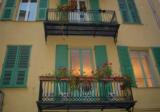 Typical Nicois Building
Local Info:Fascinating holiday apartment (Rue du Collet) in the Old Town of Nice The Cote d'Azur
In Nice you are at the heart of the Cote d'Azur. From there you can take a short bus ride (the bus terminal is 4 minutes from the apartment) to the cliff hanging village of St Paul de Vence or to picturesque Villefranche with its sandy beach, idyllic harbour, boats and yachts.
Why not take a ferry for a day trip to
Corsica
?
Take the train along the coast past
Menton
and
Monaco
to
Italy
, following the coast with its blue skies and azure sparkling seas.
There are mountains for rambling and skiing and picturesque villages for sightseeing, wining and dining. Whether you want to stay put or explore, Nice is the perfect base.
Nice
Whatever you require from a holiday, Nice provides it in abundance. You can sunbathe on the beach (five minutes walk away), walk, cycle or rollerblade along the famous Promenade des Anglais (all 5 km of it!).
For museums you are spoilt for choice -
Musee Dufy, Musee Matisse, Musee Marc-Chagall
etc.
Something always seems to be happening in Nice. On an international scale there is the jazz festival in July and the famous Nice Carnival in February.
Activities
Watersports
Fishing
Beach
Sightseeing
Concerts
Opera