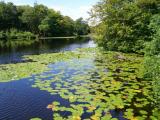 Local Info:
Here you will find relevant details of what to do in the area, local shops and amenities, tourist attractions and more.
The Shakespeare Centre
in Henley Street is a must for every visitor to the town. Learn all about his life and works and visit the house where he was born and brought up.
Nearby in Chapel Street is
Nash's House
(Thomas Nash married Shakespeare's grand daughter) where you can stroll through an authentic 16th century house and listen to talks on life in Elizabethan Stratford. For a similar experience visit the magnificently preserved
Hall's Croft
(John Hall married Shakespeare's eldest daughter) in Old Town, a few minutes from the cottage. Discover how a wealthy Elizabethan doctor lived and worked in Stratford. A short distance away, in Shottery village, is
Anne Hathaway's Cottage
(parental home of Shakespeare's wife), again a must for all visitors to the town.
At the Waterside, nearby, The
Shakespearience
is well worth a visit. This is an audiovisual tour de force of special effects and latest technology.
Further afield, in Wilmcote, three miles from Stratford, is
Mary Arden's House and Countryside Museum.
Visit the blacksmith's forge, watch a falconer put his bird of prey through its paces, see rare breeds of livestock and savour the ways of country life in Tudor England. Or just have tea and scones in the museum café!
And then there are the
theatres,
all just a stroll away from the cottage. There are three to choose from – the RSC theatre, The Swan and The Other Place. Until April 07 the Royal Shakespeare Company is holding a
Complete Works Festival
. All his plays (thirty seven) are being performed.
On the
River Avon
there is plenty to do. Boat hire is always available. Pleasure boats are routine, some with candle-lit restaurants. Take a short cut across the river by ferry and visit the
Butterfly Farm
(exotic caterpillars and curious creepie-crawlies from all over the world).
The
Farmers' Market
is a regular feature of the town and is just a few minutes from the cottage. Every first and third Saturday of the month, from 9am to 2pm, local farmers bring their homemade produce to town. When the farmers are away the
Craft Market
takes over.